NSERC has teamed up with the Canadian Space Agency (CSA) to bring a once in a lifetime initiative to Canada!
We have received close to 3000 fun, thought-provoking, insightful and sometimes truly bonkers invention ideas from children all across Canada, an incredible tribute to their imagination and ingenuity. They truly are the inventors of tomorrow!
We have brought 30 of inventions to life and one drawing will get to travel with astronaut David Saint-Jacques to the International Space Station!
In fact, David and his team at the Canadian Space Agency were so inspired by the results that they now want to take a second one to space!!
He will answer our Little Inventors questions from the International Space Station - how exciting it that?
Further invention ideas will also be turned into real objects by Canadian makers and will be exhibited next May during Science Odyssey for all to see. Kids and students, including those who have already submitted an idea, can enter the challenge up until December 21st to get closer to this once in a lifetime opportunity!
NSERC Space Challenge resource pack
Students learn about life in space then draw their invention ideas to make astronaut's life easier or more fun.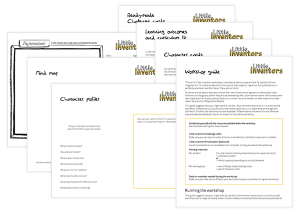 Launch your imagination with our space challenge!
Download
Terms and conditions
Terms and Conditions of Use
This Challenge is open to all Canadian residents aged between 5 and 15.
Any individual may upload as many invention ideas as they wish.
All entries must be original and the entrants' own work.
Uploading of an invention drawing should only be done by a responsible adult with appropriate permissions from the inventor and their parent/guardian. Once uploaded it is in the public domain and visible to anyone who looks at the website to see all the wacky and wonderful ideas.
Only uploaded invention ideas that meet our threshold for quality will be displayed in the online gallery, this includes the relevant text information about the student and the idea. Only ideas in the gallery will be considered for making. The judgment on this threshold is entirely at our discretion and we will not enter into any communications about our decision.
The closing date for submissions is 21 December 2018 at midnight Pacific Time. Any uploads after this will not be included in the subsequent making stages but may still be included in the online gallery at our discretion.
As the creator you will always own the copyright to your invention drawing, and by uploading it you grant NSERC and Little Inventors non-exclusive, worldwide and perpetual rights to use, implement, reproduce and commercialise your content. This means we can use it at exhibits, on our website, and it might even feature in one of our books!
As part of the Little Inventors Space challenge we will choose a number of invention ideas to make real, which is a magnificent part of Little Inventors. It is our decision which inventions will be made real.
If your invention is chosen we will be in touch to involve you in the making process so you can guide how your idea is made real. We will cover all costs, and own the object afterwards whereby it may be used in exhibitions or other Little Inventors activities.
Any activities with the objects made real or their creators are not guaranteed and are liable to change or cancellation at any time, without notice.
Our purpose is to give children the freedom and inspiration to use their imagination and creativity to come up with fantastic, funny and far-out invention ideas.
In order to be involved in the Challenge, you must agree to the rules and conditions above. Therefore, please read these carefully twice and make sure you are happy to continue. By uploading an invention drawing you agree to the rules and conditions here stated.