NSERC/CRSNG has teamed up with the Canadian Space Agency (CSA) to bring a once in a lifetime initiative to Canada!
This year, Little Inventors SPACE invites children to turn their imagination to the challenges of living in space with the help of astronaut David Saint-Jacques!
Little Inventors encourage children to explore their own creativity and become the inventive thinkers of the future
Gives children the freedom and inspiration to use their imagination and their STEAM learning: the results are spectacular!
The year's focus is on Space - where innovation, opportunity and the unknown thrive!
The most ingenious ideas will be made into real objects and will be shown in a special exhibition at the Canada Aviation and Space Museum and even be exhibited in space in a special presentation to the International Space Station crew by David Saint-Jacques!
NSERC Space Challenge resource pack
Students learn about life in space then draw their invention ideas to make astronaut's life easier or more fun.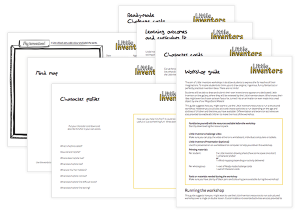 Launch your imagination with our space challenge!
Download
How to enter!
Little Inventors SPACE is open to all elementary school students across Canada and is recommended to up to grade 9 or ages 14-15.
Teachers and parents can submit the children's inventions, you don't have to be a school to take part!
Entries need to be submitted by midnight on Friday April 27, 2018
The selection process will take place by end of May and the students whose inventions are selected will be paired with a maker or artisan to produce their ideas between June and August.
Children can submit more than one invention idea.
Submit invention ideas through our upload page.
Draw your invention

on our NSERC Space Challenge worksheet

Scan the *whole* sheet

as straight as on as possible

Upload it

in JPEG, PNG or GIF format (choose a file)
Each invention idea will comprise of an image of a clear drawing, the name, age and location of the inventor, the name of the invention and a description, and a contact email address.
Examples of scanned images
Great
Not so good