Chloe Rodham
Newcastle Upon Tyne

,

Northumberland

,

U.K.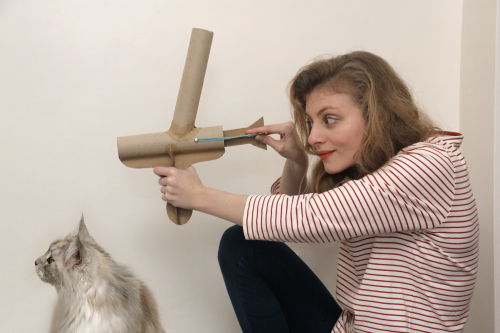 Magnificent maker
7 brought to life
2 working on
I'm an animator and model-maker based in Northumberland. I combine digital animation techniques with more traditional methods like stop motion. I enjoy sharing my skills with others - I'm an Associate Lecturer at Northumbria University and an animation mentor with TICE - introducing children to what it is like working in creative industries.
Recent project reports
Remote control
On the call I had with Muskaan, she came up with a great idea to make the washing machine able to be controlled remotely so I've made a pair of arms and phone so that I can add this into the animation too in order to show how this might work
Shooting
To make animation using stop motion techniques you have to move the model and little bit and photograph it every time you move it. I've set up the model in front of a white backdrop paper roll. I use computer software to play back my animation as I'm going so I can tell what it looks like. The water in the washing machine is made from cling film.
Preparing for animation
Some of the props need to be adapted for animation, for example, the clothes need wire in them so they stay in place when I move them. I've used pipe cleaners in the trousers and a special kind of foil inside the t-shirt which is thick and stays in place when you crumple it.