Isabel Deslauriers
St-Eugène

,

Ontario

,

Canada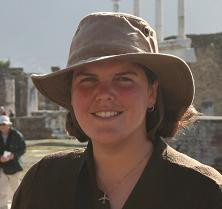 Magnificent maker
3 made real
3 working on
Skills:3D printing, 3D modeling / CAD, programming, electronics & arduino, laser engraving, glass work (stained glass and glass fusion), fine woodworking, CNC routing, knitting and crochet.
I've loved making things since I was a kid, which led to me studying electrical engineering and having all kinds of "maker" related hobbies, from 3D printing and electronics to glass work. Professionally, I spread my love of science & engineering through Let's Talk Science's outreach program. I love sharing my passion for understanding how things work and creating new inventions with kids across Canada, and giving other volunteers the tools they need to share their passion too!
Recent project reports
Meeting the Little Inventor
Today I had a videocall with Onna, the little inventor who drew the Fish Net, to show her the progress I have made with bringing her invention to life, and to get her advice and input on the remaining parts of the invention. I have a great time meeting Onna and her family. I really enjoy hearing about how motivated she was to come up with a solution to the environmental problem of overfishing and how she got the idea of using color in the net. Onna looks happy with how I am bringing her invention to life, and we brainstorm the next steps, for example what the boat should look like. I really enjoy meeting Onna, and seeing how she is already a maker herself and adding to her skills rapidly. Pretty soon, she will be bringing her own drawings to life.
Pressure's on!
Next comes one of my favorite parts, soldering everything together. I love soldering although it's always a little bit nerve racking to take apart the working circuit on the breadboard and put it back together as I solder. Compounding my nervousness this time is that right at the moment when the project is taken apart in a hundred pieces, I hear that my videocall with the Onna, the little inventor who drew the Fish Net, will be in a couple days! I'll have to pull a few late nights to make sure I have the invention in a decent state to show her on Friday! Fortunately, once everything is soldered, I plug it in and find out that this time is one of the rare times when everything works out the first time…
The last piece of electronic interfacing I need to do is to attach the fiber optics to the LEDs in a sturdy way. When I was researching this aspect online, I noticed that many makers have issues with that. I design a 3D printed bracket that fits the fiber optics snugly on the LED ribbon. Once the LEDs and fiber optics are mounted, it's time for another "milestone" test! I plug everything in and I am very, very happy with the result… the net shine even brighter than I hoped, the colors are really vivid and I'm excited to show the invention in progress to Onna. As a last touch I add some quick felt fish to the servo as a prototype of what the animated fish could look like.
Oceanview
One quiet evening that I have just a couple hours to put into the project, I decide to work on the background. I cut out some cartoony waves with my scroll saw and paint the ocean a dark blue, getting darker the deeper it goes, to make sure the fiber optics stand out against the background. I make a huge mess in the process of course but I'm pretty happy with the result.