Robin Ritter
Waterloo

,

Ontario

,

Canada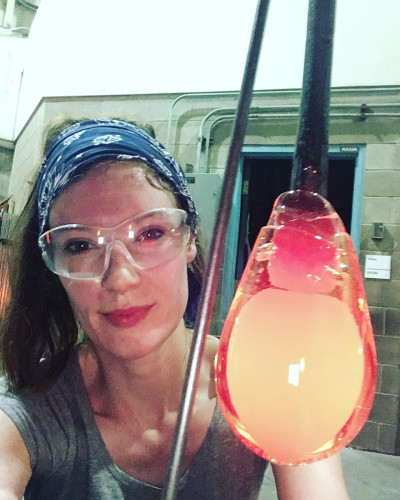 1 made real2 working on
Instagram:robin.ritter
Skills:I am glass maker and have practiced glass work such as engraving, flameworking, blowing and hot sculpting since 2012. I live mixed mediasculptures and work with many mediums!
Visual arts has always been a strong part of how I connect to the world. The creativity of young minds is my driving inspiration. I enjoy re-contextualizing children's artwork through in-depth collaboration with my craft work. Mixed media elements allow me to fully describe the emotion of a piece and reiterate unconventional characteristics of children's designs.
Recent project reports
Slappin' Tentacles . Creation 2/2
Next step is to flamework the Octapus Slapper itself. Starting with the tentacles!
Flameworking is melting rods of clear and coloured glass in order to sculpt desired shapes and patterns.. like tentacles with suckers! When the glass is hot it appears different in colour then when it is cooled to room temp.
In both renditions I will be fabricating the Octapus in sections for accuracy and a robotic look.
Glass Fish . Creation 2/2
The second rendition of the Octapus Slapper 2000 will be made up of flameworked glass models.
First, I have made fish with both a neutral and a shocked/ scared expression to illustrate the emotion of when a predictor approaches. The final result will be a mini animation showing the function of Eric's invention!
Textile Pieces . Creation 1/2
I have been cutting and sewing together the Octapus head and fish! The eyes were added and embellished with embroidery thread.