The United Nations has launched the Decade of Ocean Science for Sustainable Development 2021-2030. We are inviting the ingenious children of Canada to think up and draw invention ideas to protect the oceans. Get involved now!
The oceans cover more than 70% of our planet, and they are essential to all life on Earth. But overpopulation and industrialization have taken their toll.
Starting now, we can build a better future for our oceans with science, invention and innovation at the heart of it all. The more we understand our oceans, the better we can learn to look after them and get them back to health.
A selection of invention ideas will be chosen to be made real and showcased during Science Odyssey in 2022.
A few other inventors will have the wonderful opportunity to submit their ideas to the Canadian Science Fair Journal and be published!
The Little Inventors Mission: Protect our Oceans - Mini challenge project consists of 6 ocean-themed challenges designed to be done as a quick and fun activity at home or school or be delivered to students as a series of full lessons.
The children can choose one mini-challenge or do all 6 of them! (See below)
The challenge is supported by FREE resource packs:
The Little Inventors Protect our Oceans - Mini challenge project consists of six ocean themed challenges designed to be done as a quick and fun activity at home or school or be delivered to students as a series of full lessons.
The resources have been designed to support scaffolded learning for students age 5 to 15 years old to stretch their imagination and creativity! Each resource includes a PowerPoint presentation, student activity sheets and resource guide.
Start by downloading The Mission: protect our oceans- mini challenge proiect pack and use extension packs to dive deeper into further ocean themes
NSERC Mini challenges project - Guide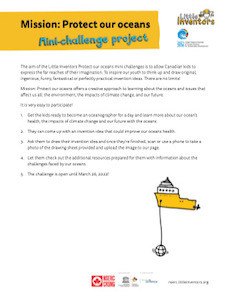 Terms and conditions
This challenge is open to all Canadian residents aged between 5 and 15 years old.
Any individual may upload as many invention ideas as they wish
All entries must be original and the entrants' own work
Uploading of an invention drawing should only be done by a responsible adult with appropriate permissions from the inventor and their parent/guardian. Once uploaded, it is in the public domain and visible to anyone who looks at the website to see all the wacky and wonderful ideas thought up by the children
Only uploaded invention ideas that meet our threshold for quality will be displayed in the online gallery; this also applies to the accompanying text information about the student and the idea. Only ideas in the gallery will be considered for making. The judgment as to the quality of an invention is entirely at our discretion and we will not enter into any communications about our decision.
The closing date for submissions is March 26, 2022 at midnight Pacific Time.
The creator will always own the copyright to their invention drawing, and by uploading it they grant NSERC, Canadian Commission for UNESCO and Little Inventors non-exclusive, worldwide and perpetual rights to use, implement, reproduce and commercialise its content. This means we can use it at exhibits, on our website, and it might even feature in one of our books!
As part of the Little Inventors Mission: protect our oceans challenge we will choose some invention ideas to make real, which is a magnificent part of Little Inventors. It is our decision as to which inventions will be made real.
When an invention is chosen, we get in touch with the inventor to involve them so they can guide the process of how their idea is made real. We will cover all costs, and own the object afterwards, whereby it may be used in exhibitions or other Little Inventors activities.
Any activities planned with the objects or their creators are not guaranteed and can be changed or cancelled at any time, without notice.
Our purpose is to give children the freedom and inspiration to use their imagination and creativity to come up with fantastic, funny and far-out invention ideas.
In order to be involved in the Challenge, children must agree to the rules and conditions above. Therefore, they must read these carefully twice and make sure they are happy to continue. By uploading an invention drawing, participants agree to the rules and conditions here stated.